This is a short list of some of the players for Section 8. As some of you may notice it changes from time to time due to the comings and goings of players. I apoligize for letting it go for so long and will try to update it more often as time goes on. Also listed is the marker of choice for each player if they have one. Please feel free to contact us if you have any questions concerning a paint marker that you are interested in, we will give honest opinions about our feelings for these markers.
Below is the most current picture of the team. We have three new members on the squad. Adam Pittman, Paul Curry, and last but not least Dale Craft. All three play on the tourney and scenario team. We have lost Daniel Bowman, he moved back to Louisiana, but he will always be welcome to play with us, and will remain on our website roster. Good luck to Daniel in Louisiana, he has already picked up on another team and I know he will do very well for that team. Section 8 will surely miss him.
Wow How things have changed. I look at the picture below and almost get blurry eyed, almost. Anyway, Big Adam has moved on and is playing with another team here in town and is doing great, I ran into him down at World Cup this year with his new team Havoc I believe.
JJ and J are playing some with Adam's team. Doug went to Norfolk for two years and is back in town and working somewhere, not quite sure where. Paul has moved on and I am not sure as of this writing where he has moved on to. Daniel is still in Louisiana and is with yet another team and is doing great.
And your humble webmaster? Well I am now out of the Navy and working in the space program down in Cape Canaveral. I have been playing scenario ball with Recon 1 after the merger of the Boar's Nest crew with Recon. As far as tourney, I am looking for a team in the Brevard County area, and will have more time to play once I get the family moved down there.
Speaking of Family, I have two new ones and Adam has a new young one.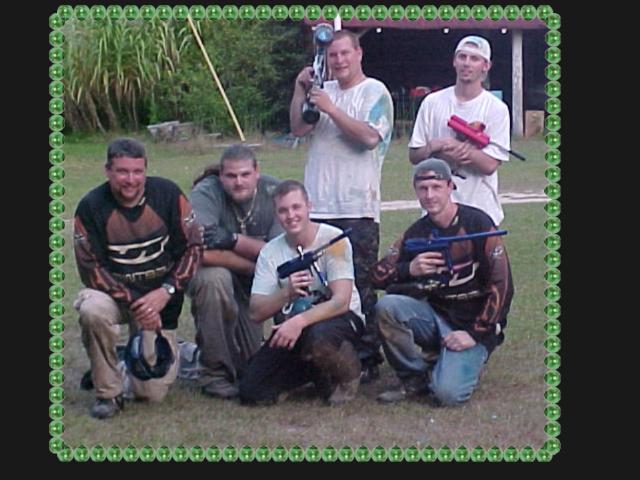 From Left: Standing; Paul, JJ Moore. Kneeling; Fred, Adam, J Jones, and Doug.
Fred "Poppa Smurf" Robertson, Captain
2000 Angel LCD
2001 Autococker

Adam Pittman
Automag RT
Bob Long Millenium with ELCD trigger


Joey Usina
Tippman 98 with reactive trigger
Bill Cushion
Tippman pro-carbine

Dale Craft
2001 Autococker

Doug Stover
Tippman 98 with flatline
2001 Angel LCD

Daniel "Bolt" Bowman
2001 Angel

Max(no last name yet)
E-Matrix
98 Autococker
J Jones
Spyder TL
2001 Fly Angel LCD

Paul Curry
BM2K